Book Promotional price
the book
by annemie reyntjens
"All Beautiful in Flanders Fields" is an English reading book .
It is described by World War I experts, as the finest book ever made, about the traces left behind by the Great War in the Ypres region. After about 200 full days wandering in Flanders Fields, Annemie Reyntjens showcased her most beautiful pictures in this fine Collectors item. ( regular price : 39,95 €)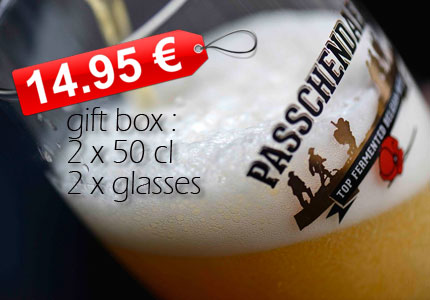 The box
This item is SOLD OUT
Brewery Van Honsebrouck, located in the town of Ingelmunster in West Flanders and renowned for its range of Kasteel beers, commemorates the centenary of the First World War with the launch of a new blonde beer: Passchendaele.The beer owes its spicy finish to a blend of select Belgian hops grown in the area of the battlefront itself. ( this item is sold out )
ALL BEAUTIFUL
In Flanders Fields
- the book - ( 29.95 € )
Respect, remembrance and revival are the core words and values brewer Xavier Vanhonsebrouck wishes to propagate with this beer.Part of the revenue is donated to the municipality of Zonnebeke so as to contribute to the maintenance of its war memorials. Get a taste of this extraordinary blonde beer with its delicate yet robust taste. Enjoy this exceptional beer while you commemorate the Great War.
the author
A. Reyntjens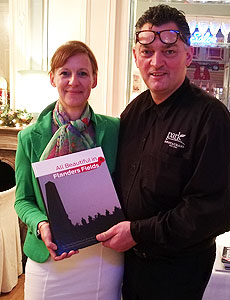 Visit ypres
Quasimodo tours
No visit to Belgium is complete without learning firsthand about this devastating part of our histories. Never conquering but always conquered, lying at the crossroads of Britain, Germany and France, Belgium has always been the punching bag of great nations. And nowhere are the hardships that these men endured more visible and tangible than in the Ypres Salient...
History and beer
passchendaele pub
Pub in het heart of Passchendaele, with the lovely Passchendaele Beer, several beers from the Castle Brewery, local beers and snacks. We pay a lot of attention to the First World War , and with our knowledge, we try to help tourists on their way in this beautiful region...